Tired of doing today's job with yesterday's tools? Let our application migration team help you keep pace with the changing technologies. The tech world is moving so fast that you need to run fast just to stay where you are. The technologies that once seemed invincible are now extinct. Empower your team to do their best by giving them access to the latest tools and technologies. Migrate apps from legacy systems to modern platforms that help drive direct, bottom-line benefits. Why should you listen to us? Because, we have done hundreds of those migrations before and know what we are talking about.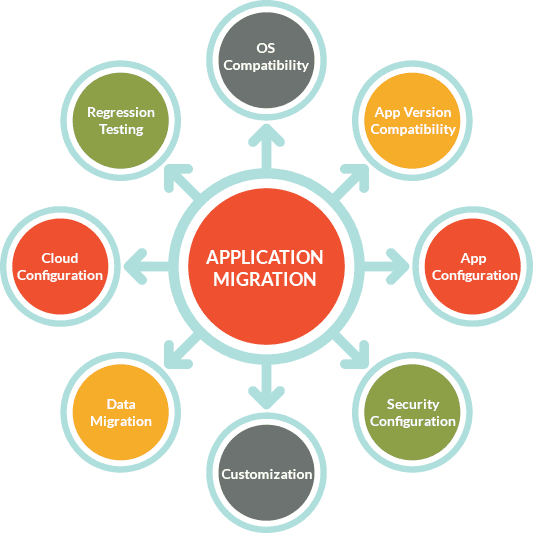 Application Migration – Why You Need it Today
You think you are doing well with the technologies you have. But your sales is not increasing and your productivity is dipping. Finally, you figure out the reason – outdated technology. Its holding your team back and preventing them from doing their best. Which is why you need to think of migrating apps as a necessary evil. Trust us when we say that it will directly affect your bottom line performance.
We help you re-engineer the future
Whether you want to migrate from MS Access to Microsoft SQL Server or want to move your applications to the cloud, we have developed a methodical evaluation strategy to help you. We begin by assessing your current technology landscape, your business needs and provide detailed recommendations. We then help you transform your legacy systems on to the new platform and provide support until you are ready to take off on your own.
Migrate Apps with Confidence
Switch platforms with confidence with our expert quality assurance and validation teams. We will work with you, our developers and third parties to debug, test and validate all new platforms and integration points. We also help you migrate all your data from your legacy systems to the new system. So, when you start working on the new platform, you know it's business as usual.
Operational Readiness Training
Our work does not stop with application migration. We understand the frustration that accompanies new systems and help your personnel through the transition period. We will write technical documentation, conduct training sessions and answer questions till your employees are able to take full control themselves. If you would rather do the training through an in-house team, we would be happy to support that too. What's best for your business is best for us.